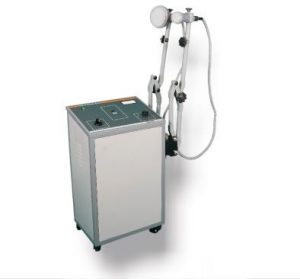 INDOTHERM 500 is a heavy duty shortwave diathermy equipment can be used in hospitals and big clinics. It is mounted in castors to move from place to place. It has plastic moulded multi-position arms set for setting the treatment place without disturbing the patient. Digital timer for setting the treatment time.
APPLICATIONS
Rapid reduction of wounds
Rapid reabsorption of haematomas and oedemas
Powerful stimulations of the peripheral circulation
Post – traumatic and post operative disorders such arthropathy, Contusion, distortion, hametoma Other disorders such as ankylopoletic spondylosis, bursltis, Coccycodinia, myalagia (acute) and chronic sinusitis
SPECIFICATIONS
Generator Frequency - 27.12 mHz
Output Power - 500 W (Adj in 5 steps)
Timer - 0–99 min Digital Timer
TECHNICAL DATA
Mains Voltage - 220 V / 50 Hz
Dimensions - L x B x H – 35 x 48 x 75 cms
Weight - 38 Kgs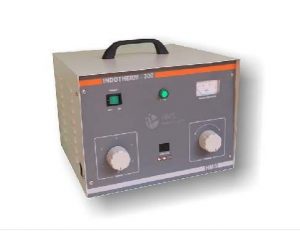 Specifications
Frequency : 27.12 MHz
Output Power : 300 W (Adj in 5 steps)
Timer : 0-99 mins at the end of treatment time out put cut off automatically and buzzer sound up
Accessories
Mains Cable- 1 No.
Output Cable- 1 Set
Rubber Pad- 2 Nos.
Instructions Manual – 1 No.
TECHNICAL DATA
Dimensions - L x B x H – 38.5 x 40 x 30 cms
Weight - 22 Kgs